Our Process
American Garage Floor Systems uses a polyaspartic rapid set, roller grade material that allows us to apply a three coat system in hours. This process gives you durability, strength, anti slip, and the longevity needed for a high traffic area. AGS uses the same polyaspartic technology for the top coat to lock the chips in, and to give it extra strength. Our polyaspartic is a non-yellowing, durable, protective finish that lasts. You will be able to walk on your floor just hours after we leave, and drive on it the next day.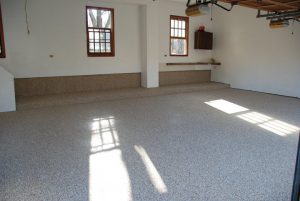 Floor Preparation
AGS utilizes the latest technology to prepare your floor for our revolutionary 3 coat system.
Our diamond-bit grinder features three grinding wheels that work in unison to open the pores of your concrete. Hand grinders are also used to prepare detailed areas and vertical surfaces.
Premium Installation
Grind off 1/16 of an inch of the surface with a low dust process
Clean and fill cracks larger than 1/8 of an inch
Apply a tinted primer
Apply base coat
Broadcast the chosen chip blend into the base coat
Apply a clear coat over the top
Apply anti-slip into top coat
Warranty
15 year Interior Warranty
*limited manufacturer's warranty

Concrete Treatment
Applications include: 
Commercial Kitchen
Hallways and Bathrooms
Warehouse Floors
Garages
Basements
Driveways
Sidewalks
Stairs
Patios
and More
Contact Us
You can contact us by filling out the form below or navigating to our Contact link.
Hours
Mon - Fri 9am - 5pm,
Saturday By appointment only,
Sunday - Closed